Top Five Mother's Day Gift IdeasMother's Day is right around the corner, and you don't want to be scrambling to get something together at the last minute. The key to an awesome gift that she'll love and use often? Give her something relaxing! Here are five of the best...
read more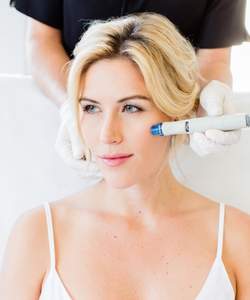 facials
There's no better way to pamper yourself than with regular facials. These rejuvenating treatments cleanse and restore your skin, as well as address any concerns you might have, from acne or fine lines and wrinkles.
make up
There are many advantages of having professional makeup services. We use makeup products with the best ingredients that are also gentle on your skin. Having  your make up done professionally can boost your self confidence and give you a more current look.
Waxing
Did you know that waxing can help stop ingrown hairs? Unlike shaving, waxing removes all of your hair from its follicle.  You can also wax every 1-3 weeks as opposed to having to shave every other day.
lashes
Lash services are one of the best ways to make yourself look and feel more refreshed, youthful, and confident. It also saves you time from putting on mascara everyday. The results typically last anywhere from 6-8 weeks.
HydraFacial®
HydraFacial uses patented technology combined with nourishing ingredients and super serums to create a gratifying glow. HydraFacial delivers instant results that you can see and feel with no downtime. It helps anyone addressing specific concerns including: Acne, Fine Lines and Wrinkles, Hyperpigmentation, Oily Skin, Enlarged Pores
massage
Whether it be for relaxation or to target particular muscles, getting a massage is an excellent way to relieve stress. It can help your body recover after an intense workout and loosen up tight muscles. 
Spray Tanning
Spray tans are great for your skin and make you look vibrant and sun kissed. They are a great alternative to the damaging sun. Plus, you can get one any time of year!
Brow Lamination
If you have unrully eyebrows and want them to look more groomed, brow lamination may be for you.
I've been going here for a couple of months now for my spray tans and can not speak more highly of them !!! Great quality tan! The tan does not look orange as you may experience other places. The place itself is so cute and clean !! 10/10 would recommend !