Glow Spa offers some of Western New York's best spa services out of our Williamsville location. You can be pampered with massage therapy and signature organic facials, learn beauty secrets and get your brows shaped by an expert at Glow Spa during fun spa party with your friends. Whatever you choose from our spa party menu of services, you will look gorgeous and leave feeling relaxed!
Request a date for your party with us now! We'll be happy to host your spa party in Williamsville.
Private Spa Parties
Looking for a fun and unique idea for your next get-together?
Book a private spa party at Glow Spa Buffalo! Parties are for 4-8 people and are typically 2–3-hour time slots depending on the size of your party.
We offer the following services for parties:
Facials/mini facials
Peels
Massage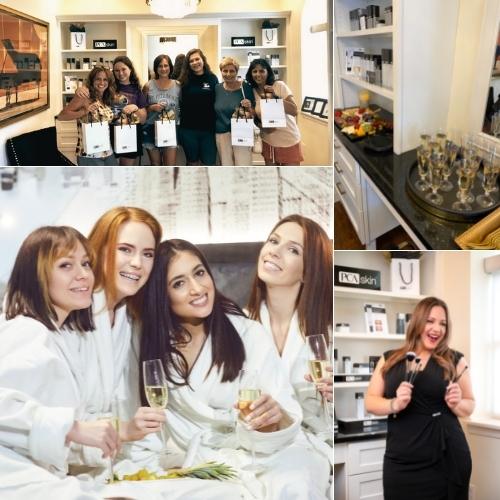 One of Buffalo's best sweet little secrets, Glow Spa Buffalo's staff of beauty professionals understands what you expect from your experience with us: to feel refreshed, relaxed, rejuvenated, and beautiful. Whether it's for an important event or just because you want to spoil yourself, we offer a wide range of services that can help you achieve your goals and look your best. We invite you to browse our site for details on all of our services—and if you have any questions or would like more information about how we can help you reach your goals, please contact us at 716-588-GLOW (4569).